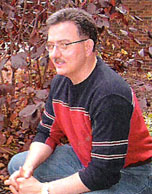 Kelvin Sawatzky is a Saskatchewan born landscape and portrait artist who has been painting full-time since 1975. He first began visiting and painting the Fort McMurray area in 1978; along with his wife Marjorie and their two sons, Jackson and Sawyer, the region has been their full-time home since 1985.
Sawatzky works mostly in oils and many of his canvases feature the lakes, the rivers, and the forests of the region. His work has been exhibited in numerous individual and group shows and is represented in collections, both private and public, throughout the world.
In addition to operating his studio/gallery, Sawatzky also conducts private art classes. Currently his paintings can be seen at his studio at the River City Centre.